Prepare Now! Big Changes Announced for Overtime Exemption
Effective January 1, 2020, new overtime regulations will take effect from the US Department of Labor's
proposed FLSA changes. These changes aim to ensure that people are paid fairly for the amount of work
they perform based on the classification of "Exempt Employee." This change is estimated to affect 1.3
million full-time salaried workers who will become eligible to receive overtime pay.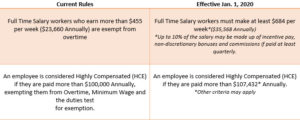 Why is this relevant?
Failure to pay overtime pay correctly can result in fines and penalties under both the Fair Labor Standards
Act (FLSA) and other state and local laws. Planning ahead for these major changes can prevent you from
the pain of a Department of Labor audit. Continue reading for useful time lines and checklists for Plan-
Source HCM customers to stay ahead of the new regulations.
Leverage the Tools Available
Educate yourself on the changes, the available options for compliance, and the impact they will have on
your business. Here are some useful tools to help you through this process:
Department of Labor website: https://www.dol.gov/whd/overtime2019/
A new delivered Business Intelligence report is designed to assist you in identifying employees who are
salaried and under the new threshold, as well as estimating costs associated with changing salaries to the
new threshold amount.

Business Intelligence Report: FLSA Employee Under the Exempt Threshold
Public Folders> UltiPro BI Content> UltiPro BI for Core HR and Payroll> _UltiPro Delivered Reports> Compliance Reports