Using Communication Broadcast
Communication Broadcast
Communication Broadcast enables you to send e-mail messages from within PlanSource HCM, however it is not approved for use as an emergency notification system, as the timing of the
message delivery is not guaranteed.
With Communication Broadcast, you can:
• Send messages
• Receive receipt acknowledgments
• Track message receipts
• Create, save, and edit communication groups based on qualifier selections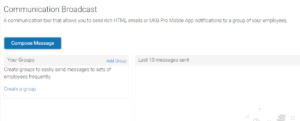 Email messages and mobile push notifications generated by Communication Broadcast are typically delivered to the recipient within two hours. Text message delivery can vary depending on carrier and cellular availability. Text messages are usually delivered to mobile phones within a few seconds to a few minutes. Delays may occur if the recipient's phone is turned off, in airplane mode, or is outside of the coverage area. When this happens, a carrier will attempt to deliver your message for up to 72 hours. Text messages can contain up to 140 characters that include numbers, spaces, symbols, and punctuation.
Enable Communication Broadcast
Communication Broadcast can be enabled for one or more roles within your organization. Please see the following SOP on how to enable Communication Broadcast, and how to seamlessly send company wide messages to your employees!